COMING SOON
St. Michaels apartments offers new affordable 50 one and two-bedroom rental units in two adjoining two-story buildings. It will help with the growing need for permanent housing opportunities for Riverside's homeless population by providing twenty-four of the 50 new units designated for those experiencing homelessness. St. Michaels is located within close proximity to the additional public, social, and health service providers. In addition, it is also well served by public transit with access along with both Jackson and California Streets, further connecting residents to the services designed to help them maintain stability and wellness in their lives.
Additionally, the newly designed St. Michaels site will provide a variety of outdoor community spaces including a courtyard area, gathering circle, and play area. In addition, Seeds of Hope and the Church have developed a plan for an urban farm on-site, utilizing edible landscaping, native plants, and a community garden to promote sustainable, healthy living. Produce grown onsite will be a resource for meals prepared in the onsite commercial kitchen where residents can learn basic cooking skills. As part of the comprehensive repositioning of the existing site, a new friary, chapel, and parish hall will be added. The additional structures have been thoughtfully designed to seamlessly integrate with the housing and provide opportunities for church programs to have a positive influence on the residents and the community. Contact us at [email protected] with any questions.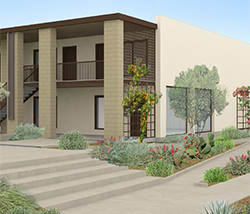 Are you ready to redefine your lifestyle today?